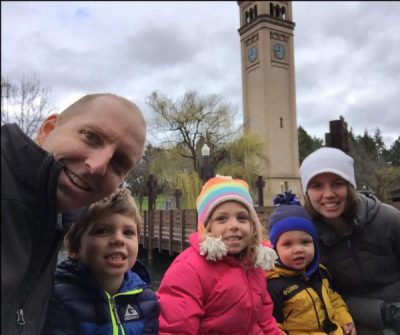 Our pastor, Jon Weigley, loves to share the simple, clear message of God's love.  His sermons and his life do not reflect a complex and confusing gospel but rather a gospel that can be easily understood by all.  His desire is to encourage you with the assurance that Jesus Christ is our friend and savior, and that you can surrender you life to Him with joy and peace.
Pastor Jon is an inquisitive student of God's word and seeks daily to understand better what it means to be a "servant of Christ Jesus" (Romans 1:1). He enjoys working closely with young people on the campus of Upper Columbia Academy and has a heart for evangelism and discipling.
As a pastor and a Bible teacher, Pastor Jon leads a busy schedule.  In addition to pastoral and teaching responsibilities, he and his wife, Karin, are raising two very wonderful boys and a precious girl.  While kids, school and work keeps them on the go, they still take time to be with family and enjoy activities like running, woodworking, gardening and juggling.
Early Life
Born into a ministry minded family, Pastor Jon spent his early years traveling throughout Florida, Iowa, and Missouri while his evangelist father conducted gospel meetings. By the time he celebrated his eighth birthday, Jon's family had settled into a more permanent setting in what he calls the "wet side" of Washington State. Throughout his high school years at Auburn Adventist Academy, Jon was involved in ministry opportunities at the academy, serving as student chaplain, and spent his summers selling Magabooks door to door. It was during this impressionable time in his life that he felt God calling him to the professional ministry.
After enrolling as a Theology student at Southern Adventist University in the fall of 1999, Jon became involved with ministry opportunities on campus. He was the leader of the clown ministry team and also participated in small group Bible studies. While at Southern, he met Karin Seeley (later to become Karin Weigley), an Elementary Education student who also was involved with campus ministry activities. In 2001-2002, both Jon and Karin went overseas as student missionaries; Jon to Australia as a youth pastor, and Karin to the Micronesian island of Yap as a school teacher. On their return to the States, Jon and Karin were engaged and married in June of 2003.
Pastoral Experience
In 2004, Jon received his Bachelors of Arts in Theology from Southern, graduating Cum Laude with minors in Biblical Languages and Music. During their final year at Southern, Jon and Karin were extended a call to serve in the Kentucky-Tennessee Conference and given the chance to continue Jon's education at the Theological Seminary at Andrews University in Berring Springs, Michigan.
While attending the Seminary, Jon and Karin were actively involved at the St. Joseph Seventh-day Adventist church near Andrews University. Jon was an elder and youth leader while Karin taught children's Sabbath School.
After receiving his Master's of Divinity from Andrews in 2006, Jon and Karin moved to Louisville, Kentucky where Jon was assigned an intern position. He had the privilege of working with pastors Rich Teller and Tim Madding in the Pewee Valley and Louisville First Churches, respectively.
Once Jon's intern time was fulfilled, Jon and Karin moved to Tennessee to serve as pastor of the Murfreesboro, Tullahoma, and Decherd churches for four years. During this time, Jon was ordained to the gospel ministry.
It was while working in Tennessee that God called Jon and his family to be the pastor here at the Upper Columbia Academy Church. While here, Jon's duties include pastoral care and leadership for our congregation, as well as involvement with teaching the freshmen Bible class at the academy.