Two church services
Youth church will not be held this week (November 28, Thanksgiving break for UCA/UCAES), so plan on our normal services: Sabbath School at 10:00 a.m. and church at 11:15.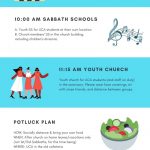 Church will be streaming audio only this Sabbath (November 28). It's the same link as the usual video service, just scroll down below the video player to the audio link. To view a video streaming church service, visit https://www.nadadventist.org/online-church-services. Regular streaming will resume next Sabbath, December 5.
(Click the infographic at right for details on how double church services and potluck work.)
No potluck this Sabbath
Due to the new guidelines (which the state has said it will revisit in mid-December), we will not have potluck this Sabbath. It's disappointing, but it's also one way we can support UCA. Thank you.
Deaconess meeting change
Deaconess meeting will be held on Saturday, December 5, at 5:00 p.m. at Karen's home (instead of the usual Sunday evening meeting).
UCA Church on Facebook
If you haven't checked out the church Facebook page, visit it today! It's another way to keep up on what's happening. We're trying to post more music for members and students alike, so if you have a favorite song, send Lorna the link. There's a list of music for the Facebook page, and your song will be added to the list for Facebook posting soon.
Caregiver needed
Interested in part-time caregiving? This dear lady turned 98 on October 25th and is a real sweetheart. She lives at home (local) and was quite independent until she had a hospital stay in September, which threw her for a loop. Her adult daughters don't want to leave her alone, so they are with her 24/7 to help her get up out of the chair, get her food, etc. They're especially interested in hiring someone to take turns with them for the night shift. If you're interested, please call/text/email Lorna for the contact's name and cell number (the contact person is one of the daughters). They're looking for someone with at least modest strength who is reliable, gentle, and has a naturally loving heart!
Elders' meeting and church board scheduling changes
The December meeting has been canceled. We'll meet at 6:00 and 7:00 p.m., as usual, on Monday, January 18 at the multipurpose room.
Pathfinders and prayer meeting have both resumed
Pathfinders is held at 6:00 p.m. in the multipurpose room each Wednesday. Please note that Pathfinders will not meet over home leaves or vacations. Prayer meeting is held at 7:00 p.m. in the church, also on Wednesdays. If you wish to attend prayer meeting online, you can request the Zoom password from Pastor Kevin Wilfley.
Women's Bible study
This study meets each Monday morning at 8:30 at the Gees' home. For more information, please contact Karen or Darlene. They would love to have more ladies join in.
The Farm at UCA has delicious fresh produce
Feel free to order using their emailed order form. You won't want to miss out on this healthy fresh food. Did you know they'll be adding berries and cherries? Or that The Farm at UCA (also on Instagram)is partnering with UCA's Artisan Bakery (opening soon) to sell at The Farm's roadside stand? In the future, a variety of fruits and vegetables will be grown on the land around the greenhouse.