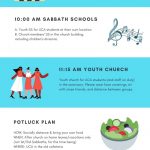 Welcome back: We're holding two church services, starting September 26
See the infographic to the right for details on the new arrangements for two church services (and for potlucks).
Last call to have your church directory picture taken!
David and Neriza will be shooting directory photos after church for the last time on Sabbath, September 26. Plan now to get in under the wire. This will be our first new directory since 2017, and we're excited to have a updated directory.
Last call for wedding gifts!
Wednesday, September 30 is the final day to give your wedding gift for Dakota and Kendra Purvis to Darlene B or Karen G to deliver. Dakota and Kendra are registered at Zola, Macy's, and Target.
Calendar temporarily down
The calendar here on the church website is down temporarily while the calendar app developers figure out how to fix the "fatal error" that was introduced in the latest update. Oops. We'll have it back up again as soon as possible.
Location for deaconess meeting
Deaconess meetings will be at Karen Gee's house at 6:00 p.m. on the first Sunday of each month until social distancing opens up more.
Women's Bible study
This study meets each Monday morning at 8:30 at the Gees' home. For more information, please contact Karen or Darlene. They would love to have more ladies join in.
UCA and UCAES have started
Our elementary school and academy have both started in-person, meeting a list of requirements to keep everyone healthy. Anyone who comes onto either campus is asked to take their temperature before coming and to wear a mask. Meeting these requirements is helpful not only because it helps safeguard the students and staff, but also because it helps ensure that we can continue to hold school in person.
The Farm at UCA has delicious fresh produce
You may have received an email about The Farm at UCA with the order form; just follow the ordering directions on the form. You won't want to miss out on this healthy fresh food. Did you know they'll be adding berries and cherries? Or that they're partnering with UCA's Artisan Bakery (closed for the summer, but reopening in September) to sell at The Farm's roadside stand? In the future, even more fruits and vegetables will be grown on the land around the greenhouse.
Updating the church website
We will be working on additional parts of the website in the coming months. Thanks for your patience. We want it to be interesting and informative for both church members and our students.