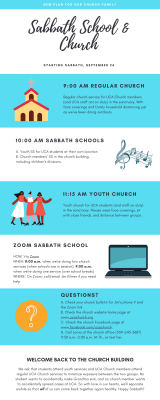 Zoom Sabbath School
Jim Kilmer teaches Sabbath School class on Zoom at 11:00 a.m. on January 9, opening at 10:45 a.m. His class will meet at 11:00 when we're holding two church services (so you can also attend regular church at 9:00), and will meet at 9:00 a.m. when we're holding only one church service over breaks. You can email Jim if you need help, and his phone number is in the bulletin. Information about this class is also available on our Facebook page.
Summary: Zoom Sabbath School will meet at 9:00 a.m. during breaks and at 11:00 a.m. when regular (member) church is at 9:00 a.m. and youth church is at 11:15. The Zoom room will open 15 minutes early for login and pre-class chat.
What do you enjoy doing for ministry?
Let the nominating committee know using the interest form. This will greatly shorten the amount of work and time it takes the nominating committee to complete the church role process. Honestly, does anyone really love making or receiving a bunch of nominating committee calls? We all enjoy the blessings of ministering and serving in a way that's meaningful and uses our gifts.
Elders' meeting and church board will meet in January
We'll meet at 6:00 and 7:00 p.m., as usual, on Monday, January 18 at the multipurpose room.
Women's Bible study resumes; will meet in kindergarten room
The women's Bible study on Monday mornings has resumed on Monday mornings at 8:30, and now it will meet in the kindergarten room. For more information, please contact Karen or Darlene.
Be sure to order the 2021 UCA student devotional book
You can also buy it at UCA or the produce stand for a $10 worthy student donation. (UCA can buy discounted copies directly from Amazon, so buying it there allows more of your donation to benefit worthy students).
UCA Church on Facebook
If you haven't checked out the church Facebook page, visit it today! It's another way to keep up on what's happening. We're trying to post more music for members and students alike, so if you have a favorite song, send Lorna the link. There's a list of music for the Facebook page, and your song will be added to the list for Facebook posting soon.
The Farm at UCA has delicious fresh produce
Feel free to order using their emailed order form. You won't want to miss out on this healthy fresh food. Did you know they'll be adding berries and cherries? Or that The Farm at UCA (also on Instagram) is partnering with UCA's Artisan Bakery (opening soon) to sell at The Farm's roadside stand? In the future, a variety of fruits and vegetables will be grown on the land around the greenhouse.