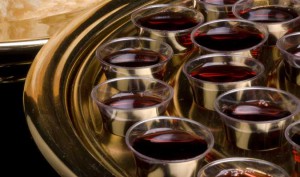 Communion is a special time when Seventh-day Adventists celebrate and remember the sacrifice that Jesus Christ made for us. This service has been a tradition of our church for nearly a hundred years, but for many Adventists its significance and important meaning still run deep in the heart.
The symbols of His broken body (the bread) and spilt blood (grape juice) are tangible reminders of the forgiveness Jesus offers each one of us.  Contemplating the story of Jesus and his last supper with his disciples gives us a chance to renew our commitment to Him as the way, the truth and the life as well has let the Holy Spirit convict on our hearts of sacrifices we need to make toward others.
When we serve one another through the foot washing service, it reminds us of Christ's humble service and an example for the way we should live toward our neighbors and the community.  It gives us an opportunity to not only resolve differences with fellow members, but also to humbly serve those whom we may have wronged.