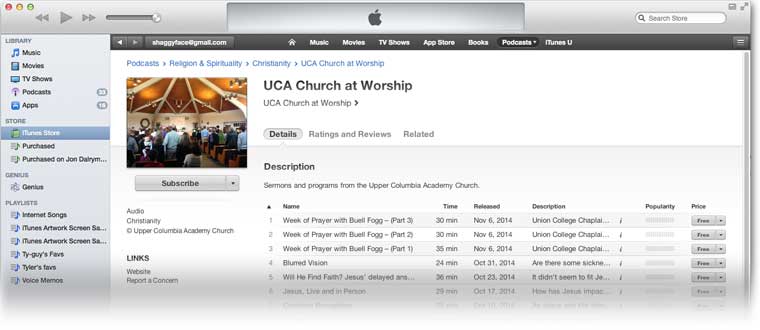 The UCA Church is now podcasting its sermons and programs via the internet.  Now you can listen to UCA Church at Worship wherever you go: at home, while you travel, on your commute to work, or anywhere you want to listen to an inspirational worship service.  All of the sermons and special programs that happen each week at UCA Church can be heard on our website, downloaded as an audio file, or subscribed to via iTunes.
Our podcast also makes it easier to share UCA Church sermons and programs with your friends or family.  You don't need to ask for a recording or a CD from anyone.  You can share your favorite sermons and programs on Facebook, Twitter, Google+, or any other social network.  Or just tell people to check out our channel on iTunes.
To listen to sermons on our website just visit our sermon archive.  There you can see a list of all the recent sermons that have been recorded at UCA Church along with a short description of what the program is about. Click the title of the sermon or program and you will be taken to that sermon's own web page where you can listen, download an audio file, or share the sermon on social media.
To subscribe to the podcast via iTunes, just search for "UCA Church" in the iTunes Store.  There you will find a list of our recent sermons and programs as well as a link to subscribe to the podcast with your computer or mobile device.
Currently, only the most recent sermons are available, but we will be adding older sermons and programs as time permits.
Visit our sermon archive to get started on our website.
Or…
Visit the iTunes page to subscribe.